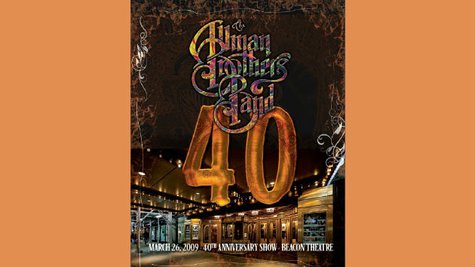 A new DVD capturing the March 26, 2009, concert at which The Allman Brothers Band marked the 40th anniversary of its first live performance will be released on April 30. The video, titled 40 , was filmed during the Allmans' 2009 residency at the Beacon Theatre in New York City, and it features the group's current lineup running through the band's first two albums in their entirety.
Among the many classic tunes features on the albums -- 1969's self-titled effort and 1970's Idlewild South -- are "Whipping Post," Dreams," "Midnight Rider" and "In Memory of Elizabeth Reed." While more than 60 guest musicians joined the Allmans onstage during their 2009 Beacon residency, only the group's seven members performed at the March 29 show. The Allman Brothers Band's first concert took place on March 26, 1969, in Macon, Georgia.
In other news, Allman Brothers Band frontman Gregg Allman has recovered from a bout of bronchitis that prompted the group to postpone the last four dates of its 2014 Beacon Theatre stint. He'll be with the band when the Allmans play their previously announced headlining sets at this year's Wanee Festival this Friday and Saturday.
"I feel almost 100 percent following my bout with bronchitis," Allman said in a recent statement. "I look forward to seeing the Allman Brothers Band fans at the Wanee Festival…as well as I cannot wait for my first trip to Australia with my solo band to meet my Down Under fans."
Gregg's solo Australia shows are scheduled to run from an April 18-19 stand at the Byron Bay Bluesfest through an April 23 concert in Melbourne. No word yet on whether the Allmans nixed Beacon shows will be rescheduled.
Copyright 2014 ABC News Radio