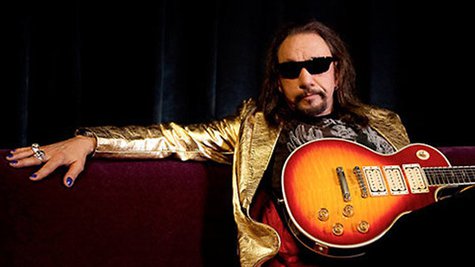 It's already been established that KISS will not perform together at Thursday's Rock and Roll Hall of Fame induction ceremony in Brooklyn, New York. However, original KISS guitarist Ace Frehley still intends to play at the event.
Frehley has told the Fuse network that he will participate in the traditional All-Star Jam at the end of the ceremony. He said guitarist Tom Morello , who currently works with Bruce Springsteen , invited him to take part in the jam.
Frehley added, "I said, 'Yeah, sure, I'd be more than happy to do it. Hand me a guitar, I'll play.' I've been doing it for long enough, right?"
KISS won't perform at the ceremony for a couple of reasons. Gene Simmons and Paul Stanley are upset that only the original lineup will be inducted. In addition, Simmons is feuding with KISS co-founders Frehley and Peter Criss .
Frehley isn't too bothered that current members Tommy Thayer and Eric Singer will not be formally recognized by the Rock Hall on Thursday. He said, "[T]he four original members and our body of work is what made KISS happen. They're pretty much a parody of what we used to be. Whattaya gonna do?"
Copyright 2014 ABC News Radio