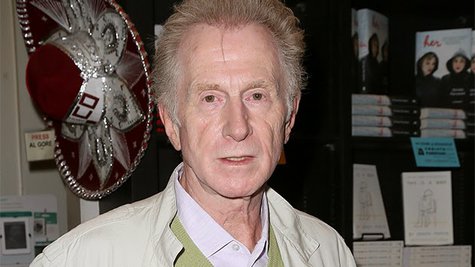 This year's Rock and Roll Hall of Fame induction ceremony will see the managers who helped guide the respective early careers of The Beatles and The Rolling Stones -- Brian Epstein and Andrew Loog Oldham -- welcomed into the hallowed institution. Unfortunately, neither man will be attending the ceremony. Epstein, of course, died back in 1967 at the age of 32 from an overdose of sleeping pills and alcohol. And Oldham has just announced that he's planning to skip the event.
In a Twitter message posted late last week, the 70-year-old entrepreneur wrote with regard to his induction, "Like Brian Epstein i was not consulted as regards this matter & like dear Brian I will not be going."

Oldham, who has lived in Bogota, Colombia, for more than 30 years, gave more in-depth insight into why he won't be attending the ceremony in a lengthy interview he gave via email last week with the Cleveland Plain Dealer . "As honored as I am…I'm not sure the background boys should be a part of what the RRHOF has become: a televised spectacular," he wrote. "We are not really appropriate to the international forum the [Hall of Fame] now has; we don't sing. All we can do is get up, thank the act, thank God and give thanks for your family for putting up with your demons."

He also pointed out that the ceremony had changed from "the private, raunchy, no-holds-barred party" it originally was,
"where [late Atlantic Records founder] Ahmet Ertegun spoke his brilliant mind and Phil Spector accepted his induction supported by three bodyguards."
Oldham added that the Rock Hall is now more exclusively focused on performing artists and their fans, citing the 2013 induction of Rush and this year's induction of KISS and Nirvana .

He added, jokingly, that "[p]erhaps they should hold a Rock and Roll Hall of Fame Olympics in Cleveland and induct everybody they've missed before they are either dead or in wheelchairs."
Having said all that, Oldham did admit he was excited about being chosen for induction into the Rock Hall. "It was surreal," he said with regard to finding out about the honor. "I'm sure it is for most of us who receive this kind of news. It's heady stuff, almost a day of reckoning."
Oldham managed The Rolling Stones from 1963 to 1967, and is credited with encouraging Mick Jagger and Keith Richards to focus on writing original songs. He also produced most of the band's music during that period.
Copyright 2014 ABC News Radio