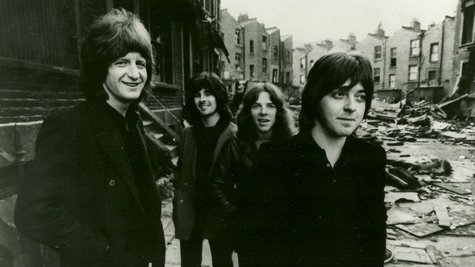 Music fans who watched the finale of the award-winning AMC series Breaking Bad on Sunday probably noticed that British rock group Badfinger 's 1971 gem "Baby Blue" was used as the soundtrack for the very last scene of the show. Not surprisingly, the song's appearance in one of TV's great moments has led to a huge spike in sales of the tune, which originally peaked at #14 on the Billboard Hot 100 in 1972.
The iTunes Store currently lists "Baby Blue" as #1 on its Top Rock Songs list in the U.S. According to Billboard.com , music-industry sources are suggesting that the song enjoyed an almost 3,000-percent sales increase during the week ending this past Sunday, and that the track was downloaded about 5,000 times on Sunday night alone. That one-day amount would easily eclipse the highest number of digital sales the track ever experienced in any previous week, according to Nielsen SoundScan. Official sales figures will be released on Wednesday, October 2.
Meanwhile, Badfinger guitarist Joey Molland , the last surviving member of that band's classic lineup, took to Twitter to express his excitement about the tune appearing in the Breaking Bad finale.
"Thank you #BreakingBad for choosing Badfinger's original recording of BABY BLUE for the final song," writes Molland, who continues to tour with his own version of the group. He also points out that the same tune appeared in the Oscar-winning 2006 film The Departed .
In addition, Molland thanks Breaking Bad creator Vince Gilligan and his production staff for choosing to use "Baby Blue" in the scene, and gushes about the "overwhelming" media response while posting links to new articles about the song's appearance in RollingStone.com, HollywoodReporter.com and SPIN.com, among others.
"Baby Blue" was one of a few songs featuring "blue" in its title that Gilligan incorporated into Breaking Bad , apparently referencing the blue methamphetamine that lead character Walter White created and on which he built a drug empire. The Badfinger hit kicks off with the lyric "Guess I got what I deserved," apparently reflecting White's fate.
Late Badfinger singer/guitarist Pete Ham reportedly wrote "Baby Blue" about a woman he dated while touring the U.S. The song appeared on the group's Straight Up album, and was the last of a string of four top 20 hits Badfinger scored from 1969 to 1972. Sadly, Ham and founding singer/bassist Tom Evans both committed suicide by hanging themselves -- in April 1975 and November 1983, respectively.
Meanwhile, the current Molland-led incarnation of the band has a few upcoming U.S. tour dates. You can check them out at BadfingerSite.com .
Copyright 2013 ABC News Radio