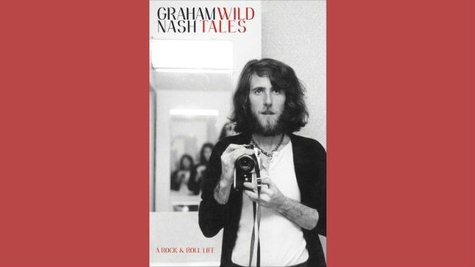 As he nears the end of the first leg of his U.S. solo tour , Graham Nash will give fans the chance to get their hands on signed copies of his brand-new memoir, Wild Tales , later this week. This Saturday, the rock legend will pay a visit to the Morrison Hotel Gallery Loft in the Soho section of New York City, where he'll personally be autographing copies of the book.
Nash will be at the gallery from 12 p.m. to 2 p.m. ET, and won't be signing anything but the autobiography. The gallery, which has hosted a number of Graham's photo exhibits, will open at 11 a.m. to allow attendees time to purchase copies of Wild Tales .
In the book, Nash recounts his whole life story, from his impoverished childhood in northern England to his early success with The Hollies and through his ongoing fruitful-yet-turbulent partnership with Crosby, Stills & Nash , both with and without Neil Young . The book also delves into his personal relationships -- including his romance with Joni Mitchell -- his other artistic endeavors and his commitment to political and social activism.
The signing will take place a day after a previously announced event promoting Wild Tales at the Hudson Union Society in New York City. The engagement, which begins at 7 p.m. ET tonight, will feature Nash sharing stories about his life and career.
Nash's current tour leg ends Sunday in Tarrytown, New York. He also has a short European trek lined up with Crosby, Stills & Nash in October, and then will launch a solo West Coast outing on November 4 in Solana Beach, California.
Copyright 2013 ABC News Radio