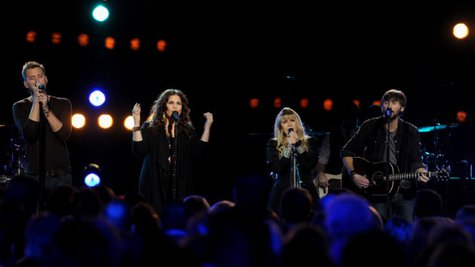 Tonight, Stevie Nicks will be featured performing with country/pop trio Lady Antebellum on the latest installment of the CMT series Crossroads , which pairs rock, pop and country acts for musical collaborations. Why these two acts specifically? Well, the concept literally came to Nicks in a dream. She's a fan of Lady Antebellum's music, and had a dream she was performing with them on stage, so she reached out to the group's people and turned that dream into this Crossroads special.
Lady Antebellum's Hillary Scott tells ABC News Radio that was a "very Stevie way" of putting together a show. She and her band mates soon learned that that magical way of thinking is just par for the course when you're hanging out with the legendary Fleetwood Mac frontwoman. Lady A's Dave Haywood adds, "Yeah, she's always telling these elaborate stories, which are crazy."
The Crossroads special was taped back in January in Culver City, California. Overall, the country-pop outfit feels very privileged to have gotten to collaborate with the rock goddess immediately after their first meeting.
"I've always said, you know it's one thing to just meet another artist you're a huge fan of, but to actually work with them is how I would want to meet them," says Haywood. "For us to be able to work with Stevie Nicks and for her to be so kind and so excited about our music -- because we were over the moon about hers -- for her to reciprocate, that was incredible."
Nicks and Lady Antebellum's CMT Crossroads episode premieres at 10 p.m. ET, and you'll see the two acts trade vocals on Nicks' classic solo and Fleetwood Mac tunes "Edge of Seventeen," "Landslide," "Gold Dust Woman" and "Rhiannon," as well as on Lady A hits like "Need You Now." There's also a reworking of Stevie's hit duet with Tom Petty , "Stop Draggin' My Heart Around." In addition, the show will feature Nicks and Lady A sharing stories and discussing aspects of their respective music careers.
Copyright 2013 ABC News Radio