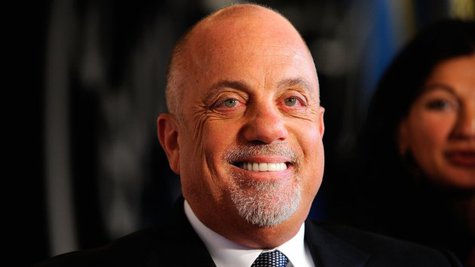 Back in 2011, Billy Joel received a three million dollar advance from Harper Collins to write a memoir titled The Book of Joel, but then he canceled the project because he didn't want to dish the kind of dirt the publisher was demanding. However, it now appears as though Billy's book is back on.
According to The Hollywood Reporter , Billy has re-hired his co-writer, Fred Schruers , and sources confirm to the publication that a new version of the book will now arrive in the spring of 2014. Unlike 2011, it's quite a busy time for Billy, who's returned to the stage after a three-year-absence. The select shows he's done over the past few months have been well-received; he'll start a U.K. tour at the end of October, and he'll receive a Kennedy Center Honor in December.
Sources tell The Hollywood Reporter that another reason Billy may have reconsidered is that there's currently a great deal of interest surrounding autobiographies by rock music legends. Memoirs by Rolling Stone Keith Richards , Rod Stewart and the Who 's Pete Townshend are just a few that have gotten a lot of attention in the past few years.
Explaining to the New York Times the reason why he put the kibosh on The Book of Joel in 2011, Billy said, "I saw this marketing campaign -- 'Divorce, Depression and Drinking' -- we talked about some of those things, but that's not the essence of the book. I realized that was going to be the nature of the campaign. They wanted more sex, drugs and rock 'n' roll, and there's not that much in my life."
He added, "What I wanted to do was have a book that set the record straight...I wasn't interested in doing a tell-all. I'm not going to talk about people who I was involved in relationships with. I'm just not that kind of guy."
Copyright 2013 ABC News Radio