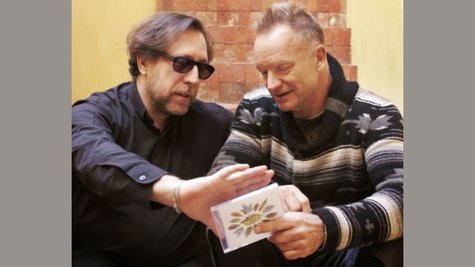 Sting , Elvis Costello and Squeeze singer/guitarist Glenn Tillbrook are among the well-known musicians who contribute to ToGetHer , a new album by Costello's longtime keyboard player, Steve Nieve . The record, which will be released on October 8 , will feature a variety of original pop-rock songs influenced by classical, experimental, theatrical and French music.
Sting lends his vocals to a tune titled "You Lie Sweetly," which was co-written by Nieve and Costello. Elvis, meanwhile, sings a song called "Tender Moment (Kairos)" that was composed solely by Nieve. Tillbrook appears on two tracks, "I Do Not Miss You (Nostalgia #2)" and "Summer Song (Espionage)." Other artists who collaborated with Nieve on ToGetHer include Laurie Anderson , Robert Wyatt and Ron Sexsmith , as well as Paul Simon 's son, Harper , and Sting's son Joe Sumner .
"I truly love what we have created with ToGetHer , and the thing I enjoyed the most was hearing the songs finally come to life," Steve says in a statement. "I am so blessed to have so many great musical friends who could be part of this journey to create what is, in essence, a true chorale album."
Nieve has been playing keyboards behind Costello for 36 years and, as a member of Elvis' backing band The Attractions , was inducted into the Rock and Roll Hall of Fame in 2003.
You can check out audio samples of all the songs from ToGetHer at 429Records.com . Here is the album's full track list, along with the guest performers featured on the songs:
"Save the World" (with Tall Ulyss)
"Conversation" (with Vanessa Paradis)
"You Lie Sweetly" (with Sting)
"What a Holiday (Pandemonium)" (with Harper Simon)
"Tender Moment (Kairos)" (with Elvis Costello)
"Up" (with Joe Sumner)
"Vertigo" (with Laurie Anderson)
"Life Preserver"
"Halloween (Bonfire Night)" (with Ron Sexsmith)
"I Do Not Miss You (Nostalgia #2)" (with Glenn Tillbrook)
"La Plus Jolie Langue" (with Robert Wyatt & Muriel Teodori)
"La Crise" (with Cali)
"Vous a L'Oubli" (with Alain Chamfort)
"Burn the Past" (with Joe Sumner)
"Summer Song (Espionage)" (with Glenn Tillbrook)
A 16th song is being billed just as "Xtra track."
Copyright 2013 ABC News Radio