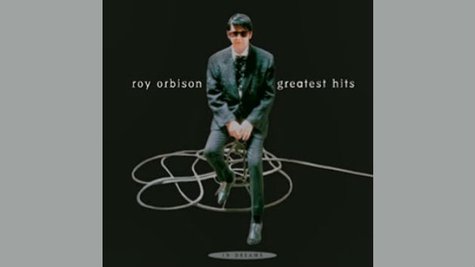 The late Roy Orbison 's long-out-of-print 1987 retrospective In Dreams -- The Greatest Hits is scheduled to be reissued on Tuesday, September 17. The 19-track album, which originally was released as a two-LP vinyl set, is a collection of updated versions of the legendary singer's best-known songs that he recorded during his career resurgence in the mid 1980s.
Among the many memorable tunes included on the record are "Only the Lonely," "In Dreams," "Crying," "Dream Baby," "Blue Bayou" and "Oh, Pretty Woman." In Dreams was co-produced by Orbison and gave the singer the opportunity to revisit his classic material using the state-of-the-art technology of that time.
In celebration of the impending release, RoyOrbison.com will launch a new interactive app called CompareOtronic13 on Friday that will allow fans to compare original versions of several of Roy's songs with the renditions that appear on In Dreams . One of the program's features will let listeners vote for which version they consider superior and write commentary about the tracks.
Orbison was inducted into the Rock and Roll Hall of Fame in 1987. Sadly, he passed away at the age of 52 in December 1988 after suffering a heart attack.
Here is the track list for Orbison's In Dreams -- The Greatest Hits album:
"Only the Lonely"
"Leah"
"In Dreams"
"Uptown"
"It's Over"
"Crying"
"Dream Baby"
"Blue Angel"
"Working for the Man"
"Candy Man"
"Running Scared"
"Falling"
"I'm Hurtin'"
"Claudette"
"Oh, Pretty Woman"
"Mean Woman Blues"
"Ooby Dooby"
"Lana"
"Blue Bayou"
Copyright 2013 ABC News Radio