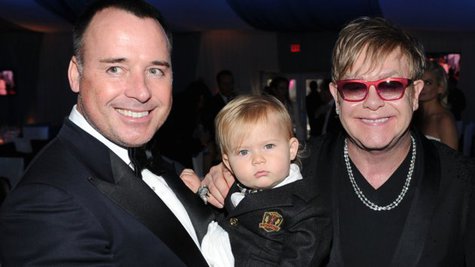 Elton John 's two sons Zachary and Elijah have every advantage in life, but he and his partner David Furnish are determined not to spoil them. In fact, they're so afraid of the kids turning into brats that, Elton says, they once gave away all Zachary's Christmas presents.
Speaking to the British paper The Daily Mail , Elton says, "M y family was working class. Underneath all of this, I've still got those values. The first Christmas we had Zachary, we walked into the sitting room and it was full, floor to ceiling, with presents. David said it would take two days to open everything. Two hours later we had barely scratched the surface, and David just sat back and said, 'This is obscene. No child should have this.'"
Eventually, Elton says that they kept one gift -- a swing for the backyard -- and, he says, "Everything else was sent to a Ukrainian orphanage." He adds, "We tell friends not to give gifts but donate money to a foundation we set up for Zachary to give to other children, so he'll actually understand what it is to give."
And when Zachary and Elijah are older, Elton says he's going to keep on teaching them the value of a dollar, even though they'll inherit millions. "I've already decided that they are going to have to work for their pocket money," he tells the paper. "They will have to do gardening, weeding whatever. I can't bear the idea they won't understand the value of money."
And that sentiment will extend to the boys' first cars as well. No Maseratis, BMWs or Ferraris for the John/Furnish kids, says Elton.
"When Zachary gets his first car, I want it to be like the car I had. A good second-hand motor, a sensible car. Nothing flash. Nothing bonkers. And he has to pay us back for it -- he won't have it just given to him on a plate," Elton vows.
Copyright 2013 ABC News Radio