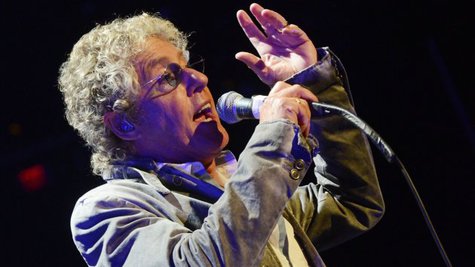 The U.S. Capitol building in Washington, D.C., was rocking on Wednesday, when The Who 's Roger Daltrey paid a visit to the historic site to help honor one of his famous countrymen, late British prime minister Winston Churchill . The rock legend was on hand to sing a couple of songs as part of a dedication ceremony for a bust of the famed statesman at the Capitol's National Statuary Hall.
A number of high-ranking U.S. officials also were on hand for the event, including U.S. Secretary of State John Kerry and House Speaker John Boehner . After a number of speeches paying tribute to Churchill, Boehner, who sponsored the resolution that commissioned the statue, introduced Daltrey.
"Who better to represent rock royalty than Mr. Roger Daltrey, founder and lead singer of The Who -- 100 million albums sold, Kennedy Center honoree and a member of the Rock and Roll Hall of Fame," said Boehner. "[He's] an icon on both sides of the Atlantic, not only for his music but for all he's done to give back. Roger was instrumental in starting the Teenage Cancer Trust series in London, an effort to raise funds to build hospital wards for kids with cancer. And, he's now extended that work to the United States with the Teen Cancer America effort."
Daltrey then proceeded to perform a rendition of Ben E. King 's "Stand by Me," which, as the House Speaker explained to the attendees, "he selected in tribute to the enduring relationship between the United States and the United Kingdom."
Roger was accompanied by a five-piece gospel choral group, as well as a keyboardist and a guitarist. After the official dedication of the bust and a couple more speeches, Daltrey and his backing musicians returned to the stage to perform a stripped-down version of The Who classic "Won't Get Fooled Again."
The entire ceremony can be viewed now at Boehner's official YouTube page .
Copyright 2013 ABC News Radio