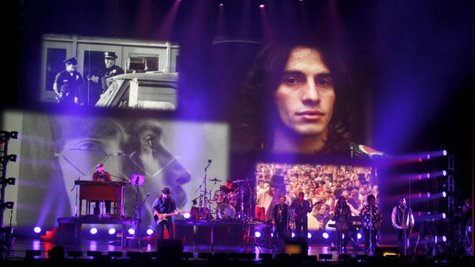 The Rascals are headed back to Broadway for the holidays. Once upon a Dream Starring The Rascals , the multimedia stage production featuring a full reunion concert by the acclaimed 1960s pop-rock group's original lineup, will visit the Marquis Theatre in New York City for a series of performances scheduled from December 16 through January 5.
The show, which was written and co-produced by E Street Band guitarist Steven Van Zandt , had its initial Broadway run this past spring at the Richard Rodgers Theatre. The production currently is in the midst of a U.S. tour that finishes up on November 29 in Atlantic City, New Jersey.
Once upon a Dream combines a traditional rock concert with archival film footage, photographs, narration and dramatic interludes that tell The Rascals' story. Among the classic hits the band plays are "Good Lovin'," "Groovin'," "How Can I Be Sure," "It's a Beautiful Morning," "Lonely Too Long" and "People Got to Be Free."
Tickets for the upcoming Broadway performances can be purchased at the Marquis Theatre Box Office and Ticketmaster.com, or by calling 1-877-250-2929. For more information, visit RascalsDream.com .
Copyright 2013 ABC News Radio