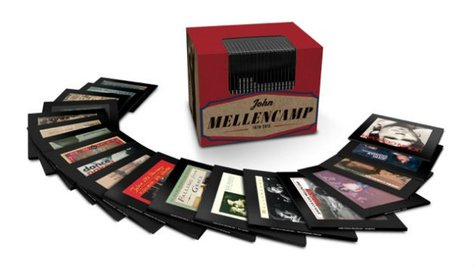 John Mellencamp is among the latest veteran artists to have his back catalog compiled in an expansive box set. Due out on December 10, John Mellencamp 1978–2012 will feature a whopping 19 CDs, including all of the albums he released on Polygram, Universal, Sony and Concord-affiliated labels.
The collection spans from his 1979 John Cougar album through 2010's No Better than This . Among the records included in the package are such multiplatinum-selling discs as Scarecrow , American Fool , Uh-Huh and The Lonesome Jubilee .
As you'd expect, the retrospective contains every major hit Mellencamp recorded, including "Hurts So Good," "Jack & Diane," "Pink Houses," "Small Town," "R.O.C.K in the U.S.A.," "Crumblin' Down" and his cover of Van Morrison 's "Wild Night." In addition, twelve of the CDs feature a bonus track.
John Mellencamp 1978–2012 also contains the out-of-print soundtrack to the 1992 movie Falling from Grace , which Mellecamp starred in and directed. The album boasts songs by Mellencamp, as well as by such fellow roots artists as Dwight Yoakam , Nanci Griffith , Joe Ely and John Prine .
Here is the list of all of the albums included in the box set:
John Cougar (1979)
Nothin' Matters and What If It Did (1980)
American Fool (1982)
Uh-Huh (1983)
Scarecrow (1985)
The Lonesome Jubilee (1987)
Big Daddy (1989)
Whenever We Wanted (1991)
Falling from Grace -- Original Soundtrack Album (1992)
Human Wheels (1993)
Dance Naked (1994)
Mr. Happy Go Lucky (1996)
John Mellencamp (1998)
Rough Harvest (1999)
Cuttin' Heads (2001)
Trouble No More (2003)
Freedom's Road (2007)
Life, Death, Love and Freedom (2008)
No Better than This (2010)
Copyright 2013 ABC News Radio