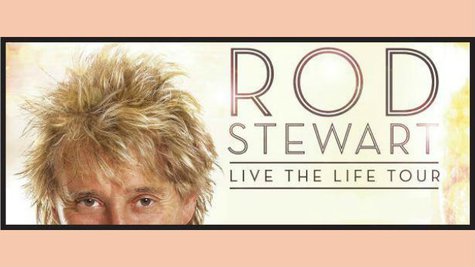 Back in April, Rod Stewart was supposed to kick off a North American tour with his old pal Steve Winwood , but the tour was postponed so that Rod could finish his most recent album, Time . The disc arrived in May, and now Stewart and Winwood are ready to hit the road together. The trek, dubbed the Live the Life tour, gets under way tonight in Greensboro, North Carolina.
This isn't the first time that Rod has teamed with a fellow music legend for a tour: his double bill with Stevie Nicks in 2011 and 2012 was a big success. So why did he tap Winwood this time around? "Steve was actually famous before I was," Stewart tells ABC News Radio. "He's not only a fantastic singer that I look up to and always have done, but you know, we're old school. I think, especially, if we get to sing a couple of songs together, it's gonna be fun."
Any Rod Stewart concert will feature its fair share of hits that you know and love, but the 68-year-old singer also wants to spotlight the songs on his album Time , which is his first collection of original material in more than a decade. However, he jokes that he plans to give the audience fair warning when he's about to perform his new material.
"I tell the people...when we play a new song, 'This is a new song. You're not gonna like it, but I'd like you to really applaud and shout a lot when it's finished, and it will make me happy!'" laughs Rod. "And that's what I'm gonna do."
As for the hits, how does a veteran artist like Stewart keep them fresh after performing them countless times for decades? He says it's "purely audience reaction" that keeps things exciting for him, because unlike some other artists, he and his band don't try to reinvent classics like "Maggie May" each night. "We don't change them at all," he says. "We try and play them the way they were written. We don't jam on them or anything."
Of course, "Maggie May" sometimes ends up getting changed accidentally. Even though he's been singing the tune for years, Rod admits, "I still can't remember all the words perfectly. I still have to look at the Autocue." But, he laughs, "People don't mind. I mean, it's just a rambling old song, but I can never get the words right. The audience do!"
The Live the Life tour will run through the 26th, and then Stewart will take a break in November as he does a new run of dates as part of his residency at the Colosseum at Caesars Palace in Las Vegas. The tour resumes December 4, includes a stop at New York's Madison Square Garden on the 9th, and wraps in Toronto on December 15.
Copyright 2013 ABC News Radio