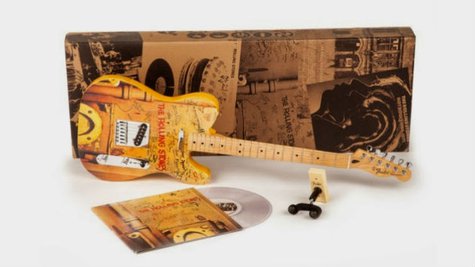 The Fender company has teamed up with ABKCO Records to create a unique electric guitar that's sure to thrill fans of The Rolling Stones . A limited-edition Telecaster boasting original artwork from the classic 1968 Stones album Beggars Banquet is part of a special package available exclusively from Amazon.com .
The guitar's front features the infamous Beggars Banquet cover art -- an unsavory, graffiti-filled restroom stall -- while the back depicts the feast image that appears on the album's gatefold. Each instrument includes a numbered neck plate. The package also comes with a copy of the new "Clearly Classic" high-quality clear-vinyl edition of Beggars Banquet and a Fender brand guitar wall hanger. The guitar, LP and accessories are housed in a box emblazoned with Stones album art.
The guitar package lists at $849.99 but can be purchased now at Amazon for a discounted price of $649.99. Only 300 of the packages are being produced.
"The music on Beggars Banquet is as unique, powerful and timeless as the Telecaster guitar," says Fender marketing executive Justin Norvell . "By working with ABKCO and Amazon, we're able to create an instrument as raw and original as the album."
Copyright 2013 ABC News Radio