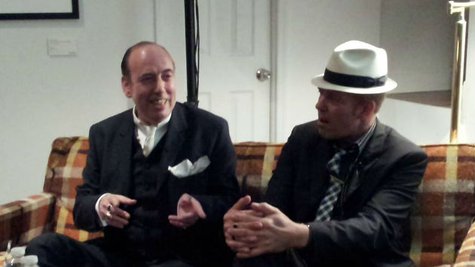 The Clash 's Mick Jones and Paul Simonon reunite for a hilarious new "Funny or Die?" video that also features Saturday Night Live alum Fred Armisen portraying Ian Rubbish, the punk-rock character he developed for his old show. In the clip, Rubbish discusses how influential The Clash were to his group, Ian Rubbish & the Bizzaros, then proceeds to conduct a tongue-in-cheek interview with Jones and Simonon before the three rock out to one of the mock rocker's tunes.
Rubbish basically admits that his band made a career of blatantly ripping off The Clash, noting, "They would say something political and we would say, 'We agree with The Clash,' or 'What they said.'"
During the interview segment, Rubbish chats with the Rock and Roll Hall of Famers at New York City's Electric Lady Studios, and we find out that each album released by The Bizzaros was based on whatever Clash record had just come out.
At one point, Simonon reveals, "There is actually a lost Clash record that no one's ever heard before. The problem was is they printed up loads of 'em and we was already to go and tour it but the record company forgot to put a hole in the middle of the record.
In response, Rubbish declares, "We had a record that was just the hole, but the rim was there -- the very outside of it was there."
At the end of their conversation, Jones, Simonon and Rubbish strap on guitars and play one of Ian's originals, "Hey Policeman!," a song whose main lyric is "Hey policeman, my boot goes in your face!"
Jones and Simonon have been promoting the recently-released Clash box set, Sound System , an expansive 12-disc collection that includes the band's original studio albums, plus demos, singles, B-sides and outtakes; promotional videos; concert footage; memorabilia, and much more. A two-CD companion compilation the The Clash Hits Back also is available.
Copyright 2013 ABC News Radio
The Clash: The Last Gang in Town
from
Fred Armisen