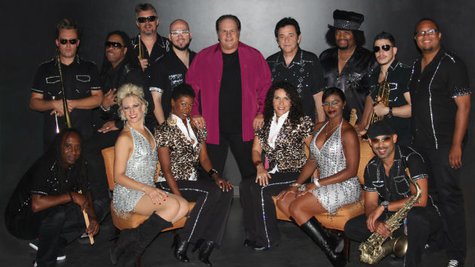 KC and the Sunshine Band will help celebrate the New Year when they make their first-ever appearance at the annual Rose Parade , which will take January 1 in Pasadena, California. The legendary disco group, led by singer Harry Wayne Casey , will perform on a float sponsored by Stella Rosa Wines, marking the first time a wine-themed float will be featured in the event's 125-year history.
Casey and his 15-piece band will be accompanied by a diverse group of dancers who will perform specially choreographed moves. The float will be 55-feet long and will be decorated with a variety of colorful roses.
"We're honored to be a part of history and be featured on the first wine float ever in the 125-year history of the Rose Parade," says Casey in a statement. "We will be celebrating a new year, having a good time and sharing musical memories with all."
The parade, also known as the Tournament of Roses Parade, is held in conjunction with the NCAA college football event the Rose Bowl, which next year will take place on January 6.
Meanwhile, KC and the Sunshine also have a variety of upcoming concert appearances lined up. Here are all of their confirmed U.S. shows:
10/25 -- Hollywood, CA, Hollywood Palladium
11/23 -- Naperville, IL, Pfeiffer Hall
12/1 -- Snoqualmie, WA, Snoqualmie Casino
12/27 -- Bossier City, LA, Margaritaville Resort Casino
12/28 -- Marksville, LA, Paragon-Mari Showroom
1/1/14 -- Pasadena, CA, 125th Rose Parade
1/24 -- Hollywood, FL, Seminole Hard Rock
1/25 -- Fort Pierce, FL, Sunrise Theatre
2/15 -- Indianapolis, IN, Private
4/4 -- Dover, DE, Dover Downs
Copyright 2013 ABC News Radio