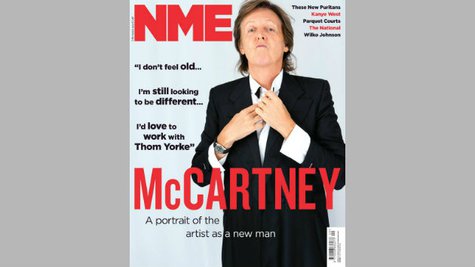 Paul McCartney and Bob Dylan are two of the most famous and successful songwriters of the rock era, but the legendary artists have never worked together. That could change, however, if the former Beatles superstar has his way.
In a new cover story in the U.K.'s NME magazine , Sir Paul notes, "There were big rumors a couple of years ago about me and Bob Dylan writing together, and I've still got that at the back of my mind. I would like to do it."
Macca reveals that he's also interested in collaborating with a couple of hugely popular younger artists from the U.K., Radiohead 's Thom Yorke and Damon Albarn of Blur and Gorillaz . While he says his kids would be particularly excited about him working with Yorke, the rock legend admits that he's actually a bit apprehensive about teaming up with the alternative rock luminary.
"My daughter Stella [has] got a project, she keeps saying to me, 'Ring Thom and just go into the studio and just see what you come out with,'" explains McCartney. "I'm a bit sort of paranoid to just ring him up. 'Hey Thom, it's Paul here…Do you fancy writing something?' Just in case he says, 'Er, actually I'm busy.'"
The new issue of NME featuring McCartney is now on newsstands and also can be purchased digitally at NME.com/Digital-Edition/US .
Copyright 2013 ABC News Radio