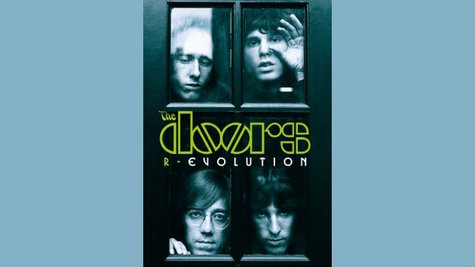 A new Doors video compilation that gathers various promotional clips and TV appearances featuring the band will be hitting stores later this fall. R-Evolution will be released on December 3 and will be available on DVD and Blu-ray in standard and deluxe versions.
R-Evolution charts the band's history and impact via footage from a wide range of sources. The release features promo films that The Doors made during their heyday for "Break On Through (To the Other Side)," "The Unknown Soldier" and "Roadhouse Blues," among others. It also contains later videos created after frontman Jim Morrison 's death and the group's disbandment, including the 1985 "L.A. Woman" clip that was directed by keyboardist Ray Manzarek .
The video disc also boasts a variety of Doors TV performances -- both live and lip-synched -- from well-known shows such as American Bandstand , The Smothers Brothers Comedy Hour and The Jonathan Winters Show , as well as more obscure programs like Shebang and Malibu U .
In addition, R-Evolution offers some rarities as bonus features, including a Ford Motor Company training film with a soundtrack provided by The Doors, outtakes of the group's 1967 visit to Malibu U , and a newly-edited segment of the band playing "Break On Through" at the 1970 Isle of Wight festival.
The deluxe editions of R-Evolution will come packaged in a 40-page hardback book featuring photos and lyrics, as well as background information and trivia.
Here's the full R-Evolution track list:
"Break On Through (To the Other Side)": Music Film – January 1967
"Break On Through (To the Other Side)": Shebang – March 6, 1967
"The Crystal Ship": American Bandstand – July 22, 1967
"Light My Fire": American Bandstand – July 22, 1967
"Light My Fire": Malibu U – August 25, 1967
"People Are Strange": Murray the K in New York – September 22, 1967
"Moonlight Drive": The Jonathan Winters Show – December 27, 1967
"The Unknown Soldier": Music Film – February 1968
"Hello, I Love You": Musik für Junge Leute: 4-3-2-1 Hot and Sweet – September 13, 1968
"Touch Me": The Smothers Brothers Comedy Hour – December 15, 1968
"Wild Child": Music Film – July 1969
"Roadhouse Blues": Music Film – February 1970
"Crawling King Snake": GTK ( Get to Know ) – December 1970
"The Changeling": Music Film – April 1971
"Gloria": Music Film – October 1983
"People Are Strange": Music Film – 1980s
"Strange Days": Music Film – 1984
"L.A. Woman": Music Film – 1985
"Ghost Song": Music Film – 1995
Bonus Features
Love Thy Customer (music by The Doors): Ford Training Film - 1966
Outtakes: Malibu U - 1967
"Break On Through (To the Other Side)": Isle of Wight Festival - August 1970
Break On Through the Lens - Documentary
Commentary
Copyright 2013 ABC News Radio