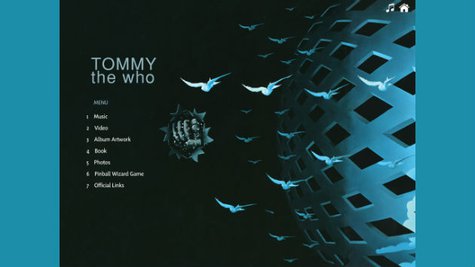 A new iPad app is now available that offers enhanced content designed to accompany the recently released Deluxe and Super Deluxe versions of The Who 's Tommy . The application, which can be downloaded for free at iTunes, allows those who've purchased Tommy 's Super Deluxe package to listen to the album on an iPad while enjoying bonus visuals and other extras.
The app also enables users to flip through a digital version of the collection's booklet, as well photos and artwork that also are included in the box set. Among the program's other features is a video section that offers footage from five songs that The Who played at the December 1969 concert at the London Coliseum that's the subject of one of the box set's bonus CDs.
The app also boasts a digital pinball game that uses artwork from a vintage Who concert poster, plus links to the band's official website and social media sites.
The application also allows users who don't own the Tommy box set to sample some features, while also offering fans direct links to sites where they can buy the collection.
"The Tommy digital box set transforms the beautiful physical box edition into a unique & fully immersive experience," says Universal Music Group executive Geoff Smith . "It allows fans of all ages across the world to access & explore this seminal album in a fully interactive way."
Copyright 2013 ABC News Radio