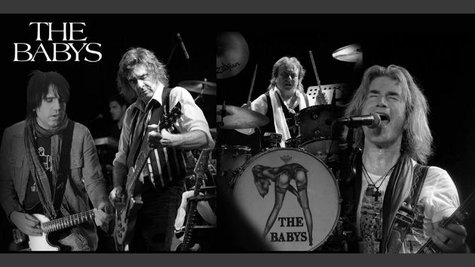 The Babys are back! The British pop-rock act, which scored top 20 hits in the late 1970s with "Isn't It Time" and "Every Time I Think of You," recently re-formed with a lineup that includes founding guitarist Wally Stocker and drummer Tony Brock . On Tuesday, the band is releasing its first new song in more than 30 years, "Not Ready to Say Goodbye," which will be available as a digital download exclusively at iTunes.
"We've had numerous offers through the years for The Babys to re-form," explains Stocker in a statement. "The whole premise of this band is to keep The Babys alive and have a good time doing it."
With regard to "Not Ready to Say Goodbye," Brock says, "It was just magical putting the new song together. By the time I finished putting brass and strings on it, I knew we had the goods."
The new incarnation of The Babys also features singer/bassist John Bisaha and rhythm guitarist Joey Sykes . The band's original lead singer, John Waite , of course, went to find success as a solo artist and as the frontman of the 1980s supergroup Bad English .
In conjunction with the new single, the group is releasing an official video on Tuesday that will be viewable at YouTube.com.
Meanwhile, the band currently is working on a new full-length studio album that it's planning to put out sometime in early 2014. The Babys have launched a fundraising campaign via PledgeMusic.com with the hope that fans will contribute money to help them complete the project. The initiative offers a variety of incentives -- depending how much you donate, you could receive a free digital download of the album, a signed CD or vinyl LP, an exclusive T-shirt, a Skype music lesson from the group or an autographed guitar.
The Babys also have scheduled a few upcoming U.S. concerts in select West Coast cities. Here's the groups full 2013 itinerary:
11/30 -- Ramona, CA, Ramona Mainstage
12/12 -- Seattle, WA, Studio 7
12/13 -- Portland, OR, Tonic Lounge
Copyright 2013 ABC News Radio