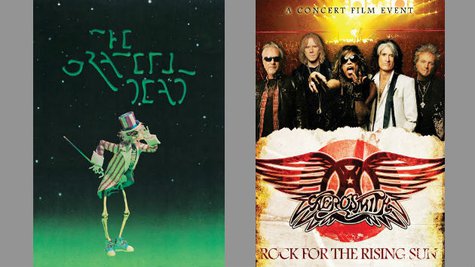 The high-def music network Palladia is cooking up some smoking side dishes to help make the Thanksgiving weekend that much more enjoyable. The channel will be screening classic concert films at 9 p.m. ET each night from Thanksgiving Thursday through Sunday, December 1.
On Thanksgiving itself, 1977's The Grateful Dead Movie will be broadcast. The flick focuses on the legendary jam band's October 1974 series of shows at San Francisco's Winterland Arena.
Friday night's feature will be Aerosmith 's 2013 concert film and documentary Rock for the Rising Sun . The movie boasts footage from the Boston bad boys' fall 2011 Back on the Road tour of Japan, which took place about a half-year after the catastrophic earthquake and tsunami that hit the country.
On Saturday, Palladia will air The Who 's Live from Kilburn , which features performances from a December 15, 1977 show at London's Gaumont State Cinema that proved to be the British band's final recorded concert with drummer Keith Moon .
Lastly, Sunday's concert special will be a screening of Rush 's recently released DVD, Clockwork Angels Tour . The movie captures the Canadian power trio performing at November 2012 shows in Dallas and Phoenix during the tour supporting its 2012 concept album, Clockwork Angels .
Copyright 2013 ABC News Radio