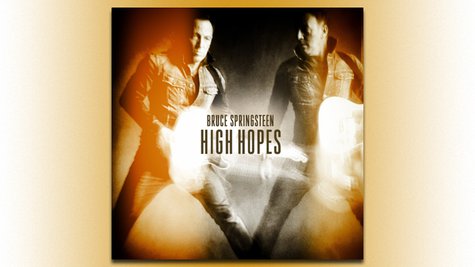 You can call it a late Christmas present for the Bruce Springsteen fan in your life. The Boss's new album, titled High Hopes , will be out on January 14.
Springsteen's first studio album since last year's Wrecking Ball will feature 12 tracks in all, including what Springsteen in the liner notes calls "a proper studio recording" of live staples "American Skin" and "The Ghost of Tom Joad." Springsteen calls many of the tracks on High Hopes, "some of our best unreleased material from the past decade." That material includes contributions on several tracks by late E Street Band members Clarence Clemons and Danny Federici .
Guitarist Tom Morello , who sat in for Steve Van Zandt during the E Street Band 's Australian tour last March, is featured on eight of the tracks, and suggested adding "High Hopes" -- a cover of the song by the LA-based band Havalinas -- to the live set. You can watch a video for "High Hopes" now on Springsteen's YouTube channel.
High Hopes , the album, is available for pre-order now at Amazon.com. Here's the track list:
"High Hopes" (Tim Scott McConnell) -- featuring Tom Morello
"Harry's Place" -- featuring Tom Morello
"American Skin (41 Shots)" -- featuring Tom Morello
"Just Like Fire Would" (Chris J. Bailey) -- featuring Tom Morello
"Down In The Hole"
"Heaven's Wall" -- featuring Tom Morello
"Frankie Fell In Love"
"This Is Your Sword"
"Hunter Of Invisible Game" -- featuring Tom Morello
"The Ghost of Tom Joad" -- duet with Tom Morello
"The Wall
"Dream Baby Dream" (Martin Rev and Alan Vega) -- featuring Tom Morello
(Names in parentheses indicate songwriter.)
Copyright 2013 ABC News Radio