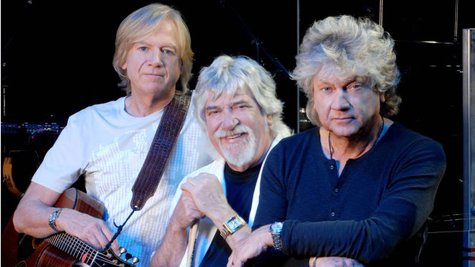 After announcing a few initial 2014 tour dates a couple months back, The Moody Blues have now unveiled a full slate of spring U.S. concerts . The next leg of the veteran rocker's "The Voyage Continues -- Timeless Flight" trek will see them travel the East Coast, beginning with a March 5-6 engagement in Morristown, New Jersey, through a May 10 concert in Boston.
Most of The Moodies' upcoming shows are scheduled in March, and the band apparently will take most of April off after hosting the second annual edition of its Moody Blues Cruise , which runs from April 2 through April 7.
The group will return to the road with a May 7-9 stand in Westbury, New York, just before the Boston gig. In addition, The Moody Blues have a September 3 makeup date in Appleton, Wisconsin, that was rescheduled from a postponed event this past October.
Here are all of The Moody Blues confirmed 2014 U.S. dates:
3/5 -- Morristown, NJ, Mayo Center
3/6 -- Morristown, NJ, Mayo Center
3/7 -- Red Bank, NJ, Count Basie Theatre
3/8 -- Red Bank, NJ, Count Basie Theatre
3/10 -- Bethesda, MD, Strathmore
3/11 -- Bethesda, MD, Strathmore
3/12 -- Lancaster, PA, American Music Theatre
3/16 -- Richmond, VA, Landmark Theater
3/18 -- Durham, NC, Durham PAC
3/20 -- Nashville, TN, Ryman Auditorium
3/24 -- Sarasota, FL, Van Wezel PAC
3/25 -- Clearwater, FL, Ruth Eckerd Hall
3/29 -- Orlando, FL, Hard Rock Live
3/30 -- Naples, FL, Artis Center
4/2-7 -- Miami, FL, Moody Blues Cruise II
5/7 -- Westbury, NY, Theatre at Westbury
5/8 -- Westbury, NY, Theatre at Westbury
5/9 -- Westbury, NY, Theatre at Westbury
5/10 -- Boston, MA, Boston Convention and Expo Center
9/3 -- Appleton, WI, Fox Cities Performing Arts Center
Copyright 2013 ABC News Radio