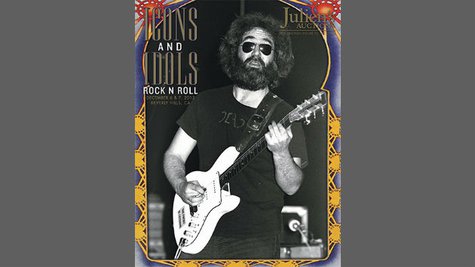 A historic guitar owned and played by Jerry Garcia is just one of the many notable pieces of rock memorabilia going up for bid during a two-day sale, December 6-7, at Julien's Auctions in Beverly Hills, California.
Garcia's Custom Travis Bean TB500 is believed to be the third-most-played guitar the Grateful Dead frontman ever owned, after "Tiger" and "Wolf." It was Jerry's instrument of choice during most of 1977, one he used to record the band's Terrapin Station album. The guitar is expected to sell for $150,000 to $200,000.
Keeping with the Grateful Dead theme, a collection of psychedelic artwork created by some of the most-renowned poster artists will be available at the event.
Many other notable instruments also will be auctioned, including a Hofner bass created for but never presented to Paul McCartney , a Roland G-707 synthesizer guitar that belonged to Led Zeppelin 's Jimmy Page , a Kramer Ferrington guitar owned by Mick Jagger , a 1954 Fender Telecaster autographed and played by Keith Richards and two vintage guitars once owned by late Creedence Clearwater Revival member Tom Fogerty .
Meanwhile, Axl Rose 's ex-wife, Erin Everly , is selling an assortment of items the Guns N' Roses singer used to own. These include the couple's 1990 wedding video and marriage license, personal photographs, clothing, love letters and even a domestic-abuse report.
Also being offered at the sale are a variety of handwritten lyrics from Jimi Hendrix , Bob Dylan , The Doors ' Jim Morrison , George Harrison , Bruce Springsteen and Stevie Nicks .
In addition, collectible items belonging to Elvis Presley , The Who , Neil Young , Ronnie Wood , Slash , Hendrix, Ronnie Montrose , Elton John and Michael Jackson will go on the block.
"If this auction was a concert where we sold tickets to attend, it would surely sell out in seconds," says Julien's Auctions executive Martin Nolan . "The collections going up for auction…are worthy of a place in the Rock and Roll Hall of Fame. It is without a doubt one of the best music related auctions we have ever been given the privilege to stage."
Some items sold during the Icons and Idols: Rock 'n' Roll auction will benefit the Grammy Foundation and MusiCares organizations. Visit JuliensAuctions.com to check out the entire catalog of memorabilia that will be available at the sale.
Copyright 2013 ABC News Radio