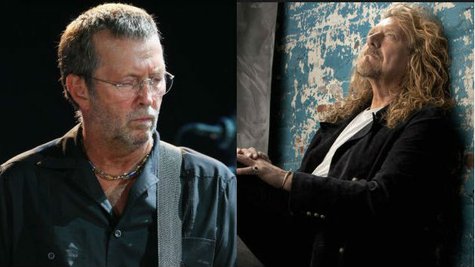 Eric Clapton and Led Zeppelin 's Robert Plant have joined the lineup of a star-studded tribute concert in honor of renowned U.K. folk guitarist Bert Jansch that will take place December 3 at London's Royal Festival Hall. The show will feature various artists playing songs written, performed or inspired by Jansch, who died in October 2011 at age 67 after a battle with lung cancer.
Other artists scheduled to appear at the show include Donovan , one-time Pink Floyd collaborator Roy Harper and most of the surviving members of Jansch's jazz-folk supergroup Pentangle .
The Scottish-born Jansch's music and guitar technique influenced many well-known artists, including Jimmy Page , Clapton, Donovan, Paul Simon and Neil Young . His arrangement of the traditional tune "Blackwaterside" reportedly inspired Page to write the Zeppelin classic "Black Mountain Side."
For more information about the concert visit SouthBankCentre.co.uk .
Copyright 2013 ABC News Radio