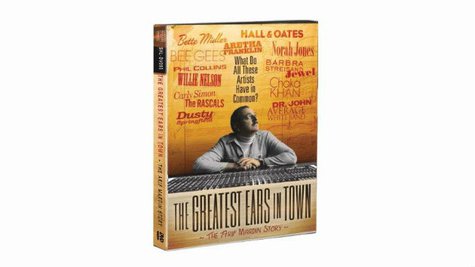 The Greatest Ears in Town: The Arif Mardin Story , the acclaimed 2010 documentary about the legendary Atlantic Records producer, finally got its release on DVD and digital video this week. The movie features interviews with Aretha Franklin , The Bee Gees ' Barry and Robin Gibb , Daryl Hall , Phil Collins and many other famous artists who worked with Mardin over the years.
The Turkish-born Mardin began working for Atlantic in the early '60s and quickly developed a reputation for spotting and nurturing talented artists in variety of genres. After retiring from the label in 2001, he moved on to a position at EMI. During his life, Arif amassed an impressive 12 Grammy Awards and produced more than 50 gold- and platinum-certified albums. He died of pancreatic cancer in 2006 at age 74.
The Greatest Ears in Town includes plenty of rare footage and photos, along with conversations with the aforementioned stars and with Chaka Khan , The Rascals ' Felix Cavaliere , Bette Midler and producers George Martin , Quincy Jones and Phil Ramone . The film includes footage shot during the star-studded sessions for Mardin's posthumous 2010 solo album, All My Friends Are Here .
The DVD offers 24 minutes of bonus material, including a lunchtime chat with Khan and footage of Collins recording his chart-topping 1985 duet with Marilyn Martin , "Separate Lives," which was featured on the White Knights soundtrack.
Copyright 2013 ABC News Radio