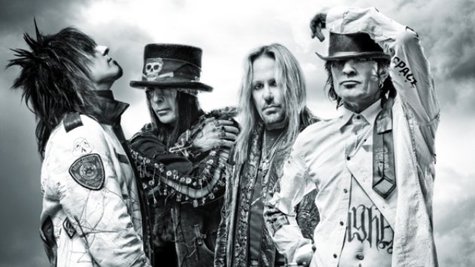 While Jeff Tremaine is known for making outrageous comedies like MTV's Jackass films and the recently released Bad Grandpa , the director says the upcoming film adaptation of Mötley Crüe 's biography, The Dirt -- Confessions of the World's Most Notorious Rock Band , will be a bit more serious.
"Some of what they went through is funny, but overall this movie is not going to be a comedy," he tells Deadline . "It's pretty dark. I think fans of what I've done will like this movie, but it's not going to make you fall out of your chair laughing."
Tremaine adds that he feels a strong connection to Crüe's story, especially the group's infamous backstage antics, which go well beyond the hijinks featured in the Jackass films. "You read about these guys and it was like 10 times worse [than Jackass ], though I think we'd done stuff that stands up to anybody else," he explains. "From a band of brothers that gets ripped apart and then pulls back together, or being part of a group that is expected to behave badly, and what happens to you when that becomes your expectation. You can do no wrong, and the worse you do, the more you're celebrated."
Dirt is expected to begin shooting sometime next year.
Copyright 2013 ABC News Radio