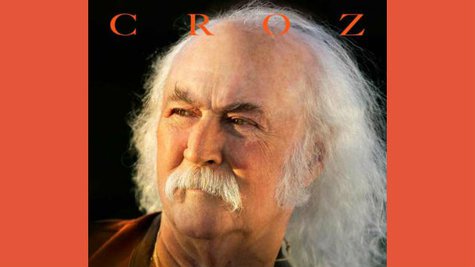 David Crosby will deliver his first solo studio album in more than two decades early in the New Year. The 11-track collection, titled Croz , will hit stores on January 27 .
The album includes several songs that the 72-year-old folk-rock legend co-wrote with his son, Crosby, Stills & Nash keyboardist James Raymond . The record also features a number of guest appearances, including ex- Dire Straits frontman Mark Knopfler , who lends his talents to a tune called "What's Broken"; acclaimed jazz trumpet player Wynton Marsalis , who appears on "Holding On to Nothing"; and veteran session bassist Leland Sklar , who plays on "Find a Heart."
If you pre-order Croz now at DavidCrosby.com/Tour , you'll be able to immediately download a free track titled "The Clearing." Crosby and Raymond co-produced the album with Daniel Garcia .
In conjunction with the release of Croz , David will be hitting the road on a U.S. solo tour. The trek, which will be comprised of several multiple-nights stands, will kick off January 28 at City Winery in New York City and run through a February 25 show at The Troubadour in Los Angeles. Crosby will be performing songs from throughout his entire career, including tunes from his solo catalog as well as from The Byrds , CSN, Crosby, Stills, Nash & Young and Crosby & Nash .
"I admit I have been lucky, but this tour is really a high point for me," says Crosby in a statement. "I get to go out and play this record that we have made live: the studio is good but live is even better. I am going to have a blast, and I suspect anyone else who comes to see us will too."
David will be accompanied by the entire CSN touring band -- Raymond, guitarist Shane Fontayne , bassist Kevin McCormick , and drummer Steve DiStanislao -- as well as guitarist Marcus Eaton , who also contributed his songwriting talents to Croz . Tickets for most of the shows will go on sale this weekend.
Here are all of Crosby's upcoming tour dates:
1/28 -- New York, NY, City Winery
1/29 -- New York, NY, City Winery
1/31 -- New York, NY, City Winery
2/3 -- Vienna, VA, The Barn at Wolf Trap
2/4 -- Vienna, VA, The Barn at Wolf Trap
2/8 -- Chicago, IL, City Winery
2/9 -- Chicago, IL, City Winery
2/20 -- San Francisco, CA, Great American Music Hall
2/21 -- San Francisco, CA, Great American Music Hall
2/23 -- Los Angeles, CA, Troubadour
2/24 -- Los Angeles, CA, Troubadour
2/25 -- Los Angeles, CA, Troubadour
Copyright 2013 ABC News Radio