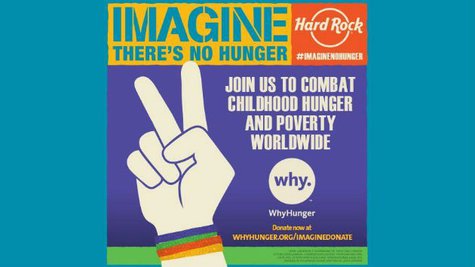 John Lennon 's widow, Yoko Ono , has teamed up again with Hard Rock International and the WhyHunger charity for a new installment of the Imagine There's No Hunger campaign , which supports programs helping impoverished and hungry children around the world. The initiative, which was partly inspired by the lyrics of Lennon's classic solo song "Imagine," is now in its sixth year and has raised more than $5.6 million for the cause to date.
Imagine There's No Hunger provides funds for nutritional food programs and for educating people sustainable agriculture techniques.
"Imagine There's No Hunger helps to further a vision that John shared in his song 'Imagine' nearly four decades ago," says Ono in a statement. "This program works to make that vision a reality, hoping to one day eliminate the hunger and poverty that affect billions of children and families worldwide."
Special merchandise is being sold at HardRock.com and at Hard Rock Café, Hotel and Casino franchises in November and December that will help raise money for the campaign. Among the items are a T-shirt featuring a replica of Lennon's signature and a hand flashing the peace sign, as well as a scarf and a pin with boasting John's signature and the words "Imagine There's No Hunger."
A number of music-related events also have been scheduled to promote the initiative, including one in Tokyo next month that Ono will attend along with Taiwanese pop group Mayday .
Fans can get involved by posting messages, videos and photos about the campaign via the Hard Rock's Facebook page and Twitter account.
Copyright 2013 ABC News Radio