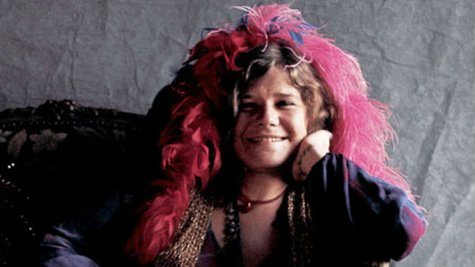 The late Janis Joplin was honored with the 2,510th star on the Hollywood Walk of Fame on Monday. Music mogul Clive Davis and "Me and Bobby McGee" songwriter Kris Kristofferson were among the luminaries on hand to commemorate the occasion, which came more than 43 years after the legendary blues-rock singer died of a heroin overdose.
During his speech, Davis -- who signed Joplin and her band Big Brother and the Holding Company to Columbia Records -- acknowledged Janis' groundbreaking style and influence on the music world.
"She was doing for women in rock what Aretha [ Franklin ] was doing for women in soul," he declared, "rewriting all the rules for what was possible and what was permissible."
Of her larger-than-life persona, Clive noted, "She was bold and brazen, but she was pained and vulnerable."
As for how he thought Joplin might have reacted to receiving the honor, Davis said, "I think she'd laugh that laugh, maybe take a swig of Southern Comfort and then say something outrageous, something hilarious, something touching."
Clive also recalled how he felt when Janis died, tragically, at age 27. "It broke my heart when she died, so very young with so much more music yet to make," he lamented. "And I was angry…because she was depriving everyone of her life force."
Kristofferson took the stage after Davis and played "Me and Bobby McGee," the chart-topping tune that Joplin recorded for her final studio album, 1971's Pearl . He also played an abbreviated version of "Epitaph," a tune he wrote as a tribute to Janis.
Janis' sister and brother, Laura and Michael Joplin , also were on hand for the event. Los Angeles councilman Mitch O'Farrell presented the siblings with a proclamation paying homage to their sister and revealed that the city had declared the day to be Janis Joplin Day.
Laura Joplin then approached the mic and said, "Janis had a huge heart that she poured into her music. She was someone who knew how to have a good time and liked experience. I like to think that this star allows her legacy to have a new experience, just like she had when she was living."
Joplin's star is located at 6752 Hollywood Boulevard in front of Musician's Institute. You can watch a video of the entire ceremony online at WalkofFame.com and Variety's official YouTube channel .
Copyright 2013 ABC News Radio