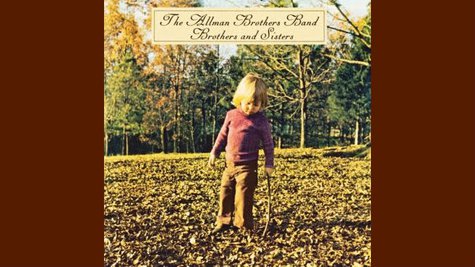 The Allman Brothers Band will celebrate the 40th anniversary of its classic 1973 album Brothers and Sisters by reissuing the recording next month in a variety of configurations. Remastered versions of the album will be released June 25 on CD and vinyl, while deluxe two-CD and four-CD editions also will be available.
Released in August 1973, Brothers and Sisters found The Allman Brothers in a transitional time. The album was the band's first full studio effort to be recorded after the death of guitarist Duane Allman and the first to be released following the death of bassist Berry Oakley . It also was The Allmans' best-selling record up to that time, spending five weeks atop the Billboard 200 chart and featuring such classic tunes as the #2 hit "Ramblin' Man," "Jessica" and "Wasted Words."
The two-CD version of Brothers and Sisters will include previously unreleased rehearsal performances, a handful of outtakes and a newly discovered recording titled "A Minor Jam." The four-CD set also offers two discs of mostly unreleased live performances recorded at a September 1973 show The Allmans played at Winterland in San Francisco. Among the songs the group performed at the gig are "Midnight Rider," "Statesboro Blues," "Blue Sky" and "Whipping Post," as well as the Brothers and Sisters tunes "Come and Go Blues" and "Jessica."
" Brothers and Sisters documents a band reinventing itself and finding a new direction after a traumatic loss," says Universal Music Enterprises CEO Bruce Resnikoff in a statement. "The two deluxe editions, through these previously unreleased rehearsals, jams and outtakes, offer a priceless glimpse inside that creative process."
Here is the complete track list of the four-CD super deluxe edition of the Brothers and Sisters reissue; *previously unreleased:
Disc One: Brothers and Sisters (Original Recording Remastered)
"Wasted Words"
"Ramblin' Man"
"Come and Go Blues"
"Jelly Jelly"
"Southbound"
"Jessica"
"Pony Boy"

Disc Two: Jams, Rehearsals and Outtakes
"Wasted Words" (rehearsal)*
"Trouble No More" (rehearsal)*
"Southbound" (instrumental outtake)*
"One Way Out" (rehearsal)*
"I'm Gonna Move to the Outskirts of Town" (rehearsal)*
"Done Somebody Wrong" (rehearsal)*
"Double Cross" (outtake)*
"Early Morning Blues" (outtake)*
"A Minor Jam" (studio jam)*
Disc Three: Live at Winterland, September 26, 1973
Introduction by Bill Graham
"Wasted Words"
"Done Somebody Wrong"*
"One Way Out"
"Stormy Monday"*
"Midnight Rider"*
"Ramblin' Man"
"In Memory of Elizabeth Reed"
"Statesboro Blues"*
"Come and Go Blues"*
Disc Four: Live at Winterland, September 26, 1973
"Southbound"
"Jessica"*
"You Don't Love Me" (includes "Amazing Grace")*
"Les Brers in A Minor" (with drum solo)*
"Blue Sky"*
"Trouble No More"*
"Whipping Post"*
Copyright 2013 ABC News Radio