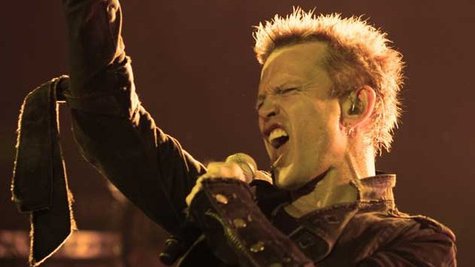 Billy Idol has a couple of new projects in the works that should excite his fans. The punk pioneer tells Billboard.com that he's preparing to record a new studio album and also is writing an autobiography, both of which could see light of day next year.
Regarding the album, which will be Idol's first collection of new material since 2005's Devil's Playground , the singer says he's "been gradually putting new songs together" and plans to hit the recording studio in the fall.
About the new tunes, Billy reports that "a couple of them are a little more ballad-like, but of course we balance those off against a lot of the sort of fun Idol songs that people know and expect."
Billy says the process of coming up with new songs is "as easy and as difficult as it's always been…I still find it really exciting." He adds that writing a good original tune is an extremely rewarding experience. "The day you come up with a killer song you're just over the moon," he maintains. "It pays you back a thousand fold."
Idol has been performing a few new tunes, including ones titled "Ghosts" and "Love and Glory," during his current North American tour. As for the book, he tells Billboard.com, "I'm three-quarters of the way through it; we're actually editing at the moment."
Idol says that with the memoir, he's tried "to give an overview of my career or my love of music...my personal way through life [and] maybe some thoughts about what I've done right or wrong in my life."
He also intimates that the book may include some details about the excesses he experienced during his long career in rock. "I tried to honestly write about how I felt about things as they happened," he points out.
Idol's current tour is scheduled through a July 25 show in Catoosa, Oklahoma. You can check out all his confirmed dates at Pollstar .
Copyright 2013 ABC News Radio