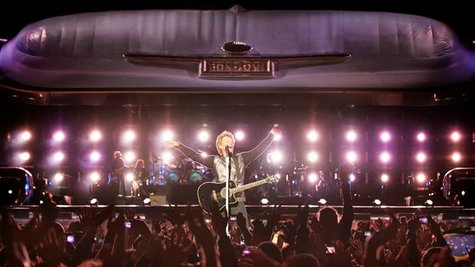 Bon Jovi reportedly has made a financial sacrifice in order to make it easier for their Spanish fans to attend their June 27 concert in Madrid's Vicente Calderon Stadium. According Spain's El Mundo newspaper, the New Jersey rockers decided to play the show for free in order to keep ticket prices low for their faithful followers in the country, which currently is in the throes of an economic crisis.
With the band not taking any money for the performance, tickets for the now-sold-out concert cost from 18 to 39 euros, or about $23 to $51, while the top price for tickets in other countries runs as high as 99 euros or about $130. Singer Jon Bon Jovi tells El Mundo that the band initially considered not including Madrid on its European tour itinerary because they feared a show there might be under-attended because of Spain's financial issues. However, the frontman did not want to let down the group's fans in the country, and made the call to waive the band's fee.
The European leg of Bon Jovi's Because We Can tour kicks off June 6 in Copenhagen, Denmark.
Copyright 2013 ABC News Radio