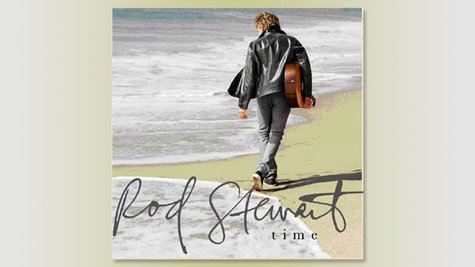 Rod Stewart 's latest album scored a #7 debut on the Billboard 200 chart, but it's made an even bigger splash on the other side of the pond. Time , the first full-length collection of original tunes the singer's released in more than 20 years, has topped the U.K.'s Official Albums Chart .
The milestone not only marks Stewart's eighth #1 album overall in his home country, it also gives him a U.K. record for the most years between chart-topping releases: 34. Rod's last album to reach #1 was 1979's Greatest Hits Volume 1 compilation. The previous record was held by Tom Jones , whose album Reload topped the Official Albums Chart in 2000, 32 years after Jones's studio effort Delilah did.
"Well, knock me down with a feather," Stewart commented to OfficialCharts.com. "Just goes to show there's still plenty of songs left in the old violin. Thank you!"
By the way, the worldwide record for the most years between chart-topping albums is 38 years, set by Bob Dylan , whose 2009 release Together Through Life was his first #1 on the Billboard 200 since and 1970's New Morning .
Copyright 2013 ABC News Radio