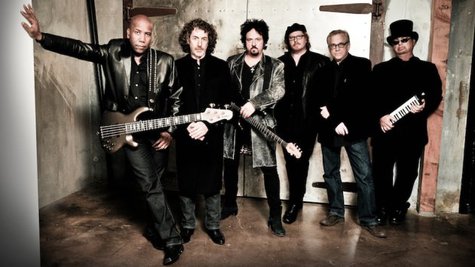 Toto will celebrate its 35th anniversary this year with a world tour that will include as-yet-unannounced North American dates. The planned two-year trek will begin with a European leg that's scheduled from a May 30 show in Brussels, Belgium, through a July 6 performance in Helsinki, Finland.
Three original Toto members -- guitarist Steve Lukather and keyboardists David Paich and Steve Porcaro -- will take part in the tour. Joining them will be longtime singer Joseph Williams and drummer Simon Phillip , along with veteran touring bassist Nathan East . In 2010, East stepped in for founding Toto bassist Mike Porcaro , who revealed that year that he was suffering from Lou Gehrig's disease. Toto's original drummer, Jeff Porcaro , died of heart failure in 1992.
Paich says he will be thinking Mike and Jeff Porcaro when the band hits the road.
"Playing helps me get through the heartbreak of not having Mike and Jeff with us," he explains. "Whenever Toto is on stage, playing the songs we created together, I see them both sitting there. I'm reunited with my old friends again."
Visit TotoOfficial.com to find out all the details about the group's tour.
Copyright 2013 ABC News Radio