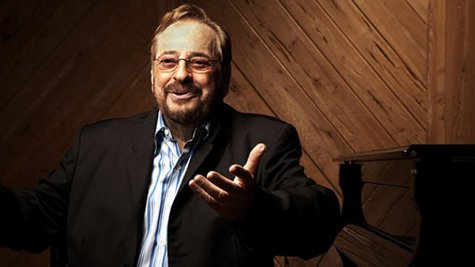 Acclaimed music producer Phil Ramone has died, about a month after being hospitalized with an aortic aneurysm. According to The Hollywood Reporter , Ramone died Saturday morning at New York Presbyterian Hospital. He was 72.
Over his long and successful career, Ramone received a total of 33 Grammy nominations and won 14 awards, including a trophy for Producer of the Year in 1981. Among the many well-known albums he's produced are Paul Simon 's Still Crazy After All These Years ; Billy Joel 's The Stranger , 52nd Street and Glass Houses ; Frank Sinatra 's Duets ; Paul & Linda McCartney's Ram ; Bob Dylan's Blood on the Tracks and Ray Charles ' Genius Loves Company .
Ramone also recorded Marilyn Monroe 's famous rendition of "Happy Birthday" that she sang to President John F. Kennedy in 1962. In 1973, he won an Emmy Award for producing Liza Minnelli 's Liza with a Z special.
In the last few years, Phil had worked on such recordings as Simon's So Beautiful or So What , Tony Bennett 's Duets albums and Dionne Warwick 's Now .
In 2010, Ramone was honored by the Songwriters Hall of Fame. At the event, Billy Joel talked about what made Ramone such a great producer. "He knows his stuff. He knows music. He's worked in so many genres," explained Joel. "He loves music himself. He's a fan of music. He's just a good human being and he keeps you interested. He keeps you in the studio when sometimes you're ready to give up."
In an interview with Music Radar in November, Ramone explained his approach to producing, saying, "You have to be able to run as fast as the artist, capture the magic early on. After a few takes, people start intellectualizing what they're doing, and it loses something. What's special happens right away -- so you have to be ready for it."
Copyright 2013 ABC News Radio