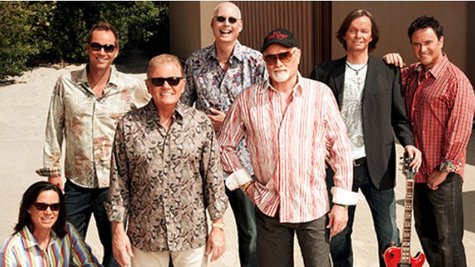 The Beach Boys ' 50th anniversary tour may be a thing of the past, but the band continues to entertain fans around the world, albeit without founding members Brian Wilson and Al Jardine . The group's lineup led by singer Mike Love and longtime keyboardist Bruce Johnston has a bunch of North American concerts scheduled in the coming months, stretching from an April 4 performance in Westbury, New York, through a July 20 stop in Baltimore.
The Beach Boys currently are winding down an Asian tour leg that wraps up this week with three concerts in Tokyo, on Tuesday, Wednesday and Thursday.
Wilson and Jardine, meanwhile, have plans to team up with fellow Beach Boys 50th anniversary tour participant David Marks for a pair of concerts this summer. The shows will take place on July 25 at the Fraze Pavilion in Kettering, Ohio, and July 26 at the Ravinia Festival in Highland Park, Illinois.
Here are all of the Beach Boys upcoming North American tours dates, according to TheBeachBoys.com and Pollstar :
4/4 -- Westbury, NY, NYCB Theatre at Westbury
4/5 -- Sewell, NJ, TD Bank Center For the Arts
4/6 -- Morristown, NJ, Mayo Performing Arts Center
4/7 -- Lancaster, PA, American Music Theatre
4/8 -- Greenburg, PA, Palace Theatre
4/20 -- San Tan Valley, AZ, Encanterra Country Club
5/1 -- Prince Albert, Canada, E.A. Rawlinson Center for the Arts
5/2 -- Regina, Canada, Casino Regina
5/3 -- Enoch, Canada, River Creek Resort & Casino
5/4 -- Ft. McMurray, Canada, McDonald Island Field House
5/10 -- Ivins, UT, Tuacahn Amphitheatre - Center for the Arts
5/11 -- Las Vegas, NV, Cannery Casino Hotel
5/12 -- Flagstaff, AZ, Pepsi Amphitheater at Fort Tuthill Park
5/17 -- Tulsa, OK, River Spirit Casino
5/18 -- Tulsa, OK, River Spirit Casino
5/19 -- Salina, KS, The Stiefel Theatre for Performing Arts
5/24 -- Norfolk, NE, Divots Event Center
6/8 -- Del Mar, CA, San Diego County Fair
7/20 -- Baltimore, MD, Pier Six Pavilion
Copyright 2013 ABC News Radio