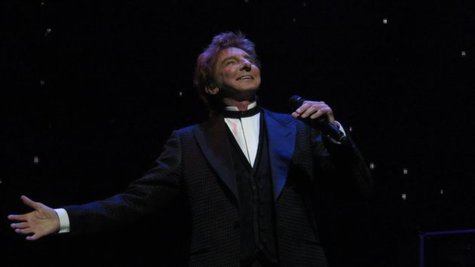 Barry Manilow doesn't take himself too seriously...which is why he's thrilled about the way Glee featured his music on this past Thursday's episode, "Guilty Pleasures."
In the episode, Sam, played by Chord Overstreet , confessed his deepest, darkest secret to the rest of New Directions: he loves Barry Manilow's music. In fact, he loves it so much that he said he considers himself a "Fanilow." He then performed a spirited version of Barry's signature hit, "Copacabana," and the rest of the kids happily joined in; they all later confessed that they, too, loved Barry Manilow.
In a note on his website, the pop legend writes, "Hi everyone! Did you watch Glee last night? What a great surprise! I thought Chord Overstreet did a perfect job on 'Copa'! Actually, the whole cast just threw themselves into the song! Fantastic."
He posted a link to the cast's performance of the song, and added, "Thanks to [Glee creator] Ryan [Murphy] and everyone at the show for treating it so well."
The Glee appearance fulfills an ambition that Barry's had since the show went on the air. Back in 2009, he told ABC News Radio that he was hoping that the show would feature his songs.
"I'm kinda waiting for it," he said. "I watch it every week, and I'm saying, 'This time, this is the one! They're going to discover 'I Write the Songs.' They're going to discover 'It's a Miracle.'" Maybe they will."
Well, it only took four years, but finally, Barry can brag that he's in the Glee club.
Copyright 2013 ABC News Radio