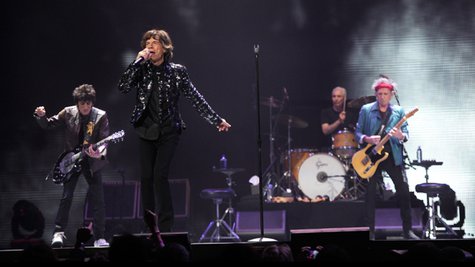 Much speculation about when and where The Rolling Stones might be performing this year has circulated recently in the press although the band still has made no official announcements regarding a 2013 tour. However, ShowBiz411 reporter Roger Friedman claims that he has received exclusive confirmation that the British rock legends will be playing a pair of shows in London's Hyde Park in July.
According to Friedman, The Stones' London concerts "likely" will take place on July 6 and July 13. In addition, he says his sources have confirmed the recent reports that the group will play 18 shows at North American arenas, and that a stateside trek would begin somewhere on the West Coast, possibly in Vancouver, Canada. The tour also apparently will stop in Philadelphia and, not surprisingly, in the New York City area.
Lastly, Friedman says his sources told him that the rumors about The Stones playing this year's Glastonbury Festival also are true. That event will take place June 26 through June 30 in Pilton, England.
Copyright 2013 ABC News Radio