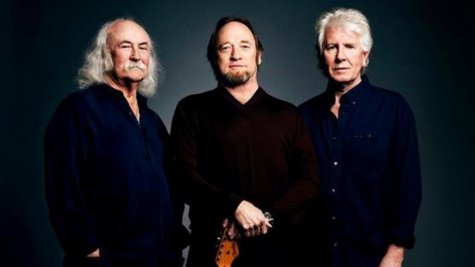 Crosby, Stills & Nash will headline a star-packed benefit concert for the Autism Speaks organization that's scheduled to take place April 13 at Club Nokia in Los Angeles. The Light Up the Blues Concert, which will be hosted by Stephen Stills and his wife Kristen , also will feature performances by ex- Eagles guitarist Don Felder , Rickie Lee Jones , Lucinda Williams , Ryan Adams and Stephen's son Chris , among others. Comic actor Jack Black will serve as the event's master of ceremonies.
Proceeds raised by the show will go towards Autism Speaks, which supports research into the disorder and advocacy for families and people affected by the condition. The concert has been scheduled to coincide with Autism Awareness Month and will promote Autism Speaks' annual Light It Up Blue campaign. In conjunction with the initiative, which kicks off on April 2 -- World Autism Awareness Day -- homes, businesses and buildings replace their white light bulbs with blue ones to help promote the cause.
"As parents of a child on the autism spectrum, we recognize the ongoing challenges of every family impacted by this baffling disorder and wish to be part of a community that seeks solutions, and offers support," say Stephen and Kristen Stills in a statement. "'Light Up the Blues' will celebrate the many gifts of autistic individuals, while supporting Autism Speaks in their mission to raise awareness and continue to enact their successful advocacy on behalf of all those who navigate through the journey of autism."
For more information about purchasing tickets, visit AXS.com or email venas.matthews-bazin@autismspeaks.org.
Copyright 2013 ABC News Radio