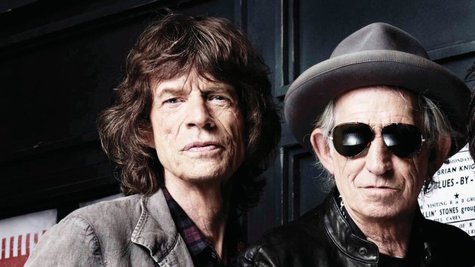 The Rolling Stones wrapped up the North American leg of their 50 and Counting tour Monday in Washington, D.C., and now the band is heading back to the U.K. to give their first-ever performance at the famed Glastonbury Festival this Saturday. In advance of the big show, the rock legends have posted a video online featuring Mick Jagger and Keith Richards discussing the event.

In the clip, Jagger reveals that playing the event will give him a chance to spend some quality time with his family.
"All my kids are gonna be there so I'm gonna be visiting them in the days before the actual show," he points out. "They've got all kinds of activities set up for me to do. And my brother also…lives there, actually in Glastonbury. Not in the field, but he lives in Glastonbury."
Richards, meanwhile, notes, "It's almost as if you were, like, finally destined to play Glastonbury. I mean, there were many years when we were offered it and turned it down, but I look upon it as a culmination of our British heritage, really. It had to be done and it's gonna be done and we'll see what happens."
Adds Mick, "We look forward to seeing you in Glastonbury."
Glastonbury, which takes place in Piltdon, England, kicked off Wednesday and runs through Sunday. In addition to The Stones, who'll play a headlining set on Saturday night, the festival will include performances by Elvis Costello , Bill Wyman 's Rhythm Kings , Steve Winwood , Smashing Pumpkins , Bobby Womack , Kenny Rogers , Chic Featuring Nile Rodgers and dozens of other acts.
The Rolling Stones also have two more U.K. concerts scheduled, sold-out gigs on July 6 and 13 at London's Hyde Park.
Copyright 2013 ABC News Radio