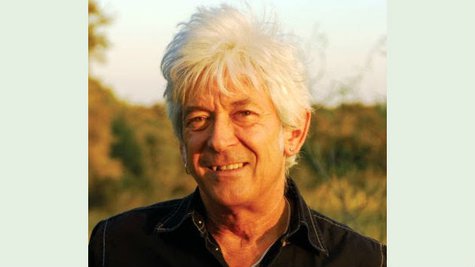 Founding Faces / Small Faces keyboardist Ian "Mac" McLagan currently is out on the road for the first time since before his old bands were jointly inducted into the Rock and Roll Hall of Fame back in April 2012. The veteran British rocker, who's a longtime resident of Austin, Texas, is visiting clubs in dozens of cities throughout North America and is being accompanied by bassist John Notarthomas of his backing group The Bump Band .
"It's a 10,000-mile tour, by the road," Ian explains to ABC News Radio. "Thirty-three gigs in 42 days. It's through July 25."
McLagan says fans who come out to the shows will get a preview of his upcoming album, United States , which he's planning to release in late 2013.
"We're doing quite a few tracks off the new album," he reports. "We play new songs, old songs…and I talk too. I do tell a few stories."
Mac adds that he enjoys interacting with audiences, noting that these "intimate" performances are "like being in my house, you know, being in a bar with me. I wanna tell a few stories about [late Faces bassist] Ronnie Lane or [guitarist] Ronnie Wood [or drummer] Kenney [ Jones ]."
Also at the shows, fans can purchase McLagan's new concert album, Live at the Lucky Lounge , which he and his Bump Band recorded in April at the Austin club where they perform a weekly free gig.
"It's absolutely live, but it sounds great," says McLagan of the record, noting that he only did one minor vocal edit on one of the songs. "It's 14 tracks, two or three [that have] never been heard before, [and] a few old chestnuts…I think people will like it when they hear it."
Concertgoers who hang around after each performance also likely will have the chance to get their copy signed by Mac himself. It also is available at McLagan's official online store .
Meanwhile, there could be some cool news for Faces aficionados on the horizon. McLagan tells ABC News Radio that a full reunion of the surviving band members may finally be in the offing since frontman Rod Stewart "is really keen now to do it."
Ian reports that Wood had dinner with Stewart in Los Angeles a few weeks ago and found the singer "in a great frame of mind." He adds, I've been up for it [for] forever, so's Ronnie, so's Kenney. If Rod will do it then we will."
Actually, Stewart had discussed doing a Faces reunion in a recent interview in which he suggested that a special concert could be organized that also would feature a reunited Jeff Beck Group . McLagan, however, is less enthusiastic about that plan.
"I'm not interested in that," he tells ABC News Radio. "I love Jeff, but I think that's stretching us all in different directions."

Check out all Mac's upcoming tour dates at IanMcLagan.com .
Copyright 2013 ABC News Radio