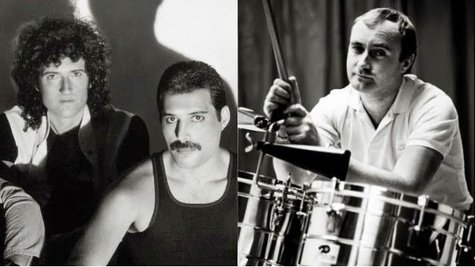 If you were going to put together the ultimate band of all time, who would you want to be in it? A recent poll of Britons revealed that Queen 's Freddie Mercury and Brian May , Phil Collins , Elton John and Paul McCartney would be their top picks for membership.
Metro reports that in the poll, commissioned by Barclaycard, a whopping 40.4 percent of the votes for the group's lead singer went to Mercury, who unfortunately is no longer with us. May, who thankfully is still round, received 30.4 percent of the vote to be the group's guitarist. Collins received 33.4 percent of the votes for the supergroup's drummer, while 26.8 percent selected John as the keyboardist. The bass player would be Sir Paul, with 25.2 percent of respondents choosing the former Beatle .
Metro points out that, while female artists like Stevie Nicks , Karen Carpenter and Madonna were on the ballot, they didn't receive enough support to "join" the band. In addition, respondents overwhelmingly seemed to prefer older musicians, even though half of the 2,000 people surveyed were under 45. In fact, the collective age of the dream lineup is more than 300 years old, assuming Mercury as 45, which is how old he was when he died.
Other stars who received votes, but not enough to make the final lineup, included Bono , Mick Jagger and Jimi Hendrix .
Copyright 2013 ABC News Radio