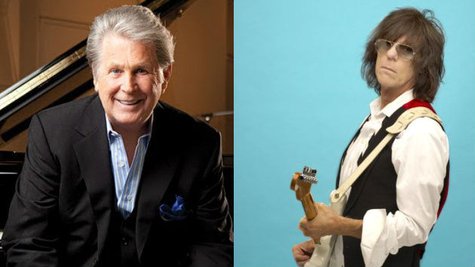 Brian Wilson has added another special guest to his October 20 concert at Los Angeles' Greek Theatre with his Beach Boys band mates Al Jardine and David Marks . Guitar legend Jeff Beck has now joined the bill. The news comes on the heels of the announcement that Beck, along with Jardine and Marks, will appear on Wilson's next studio album.
Beck is expected to hit the stage with Wilson, Jardine and Marks to perform a number of his favorite Beach Boys songs, and he also will play a new tune on which he and Wilson collaborated. In addition, Jeff and his own backing band will deliver a separate set of music.
"Jeff is one of the most amazing guitarists I've ever worked with and his vibe is inspiring," says Wilson in a statement. "In fact I think we should do an album together!"
Regarding the show, Brian adds, "I feel like this is a cool continuation of what we did last year with the exciting addition of Jeff Beck. We've got some new tunes we want to try out on a live crowd as well as doing some great music from our catalogues."
Besides the Greek Theatre concert, Wilson also has six July shows with Jardine and Marks on his tour schedule. Check out his complete itinerary at BrianWilson.com .
Copyright 2013 ABC News Radio