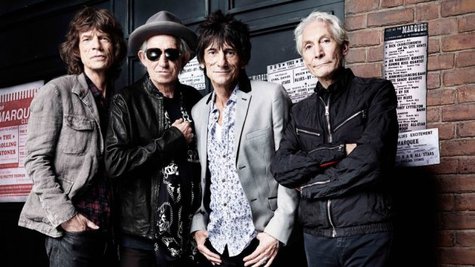 In conjunction with The Rolling Stones ' ongoing 50th anniversary celebrations, a new area of iTunes has been launched where fans can buy all of the band's recordings, as well as a variety of videos and other products focusing on the rock legends. All digital content being sold at the Stones section has been remastered specifically for iTunes.
To coincide with the iTunes.com/TheRollingStones area's debut, a pair of new, expansive digital compilations have been put together that span the band's entire career. The Complete Collection Box Set retrospectives, subtitled 1963-1971 and 1971-2013 , respectively, include all of The Stones' major studio efforts, their early U.K. EPs, plus select live albums, non-album singles and B-sides. The recordings date from the group's debut single, 1963's "Come On," to 2012's "Doom and Gloom" and "One More Shot" -- the two new tunes that appear on last year's GRRR! compilation.
Also available at iTunes are digital versions of the videos Crossfire Hurricane , Charlie Is My Darling –- Ireland 1965 , Ladies and Gentlemen: The Rolling Stones and Rock and Roll Circus , as well as The Rolling Stones 50 eBook and The Rolling Stones Official App .
Here is the full list of recordings featured on the Complete Collection box sets:
The Complete Collection Box Set 1963-1971 :
The Rolling Stones (EP)
The Rolling Stones (U.K. version)
Five by Five (EP)
The Rolling Stones No. 2
Out of Our Heads (U.K. version)
Aftermath (U.K. version)
Between the Buttons (U.K. version)
Their Satanic Majesties Request
Beggars Banquet
Let It Bleed
Metamorphosis
No Stone Unturned Vol. 1 (22 singles, B sides and more)
No Stone Unturned Vol. 2 (20 singles, B sides and more)
The Complete Collection Box Set 1971-2013 :
Sticky Fingers
Exile on Main St. (Deluxe Edition)
Goats Head Soup
It's Only Rock n Roll
Black & Blue
Love You Live
Some Girls (Deluxe Edition)
Emotional Rescue
Tattoo You
Still Life
Undercover
Dirty Work
Steel Wheels
Flashpoint
Voodoo Lounge
Stripped
Bridges to Babylon
Live Licks
A Bigger Bang
Shine a Light
"Doom and Gloom" (Album Version + Jeff Bhasker Mix)
"One More Shot" (Album Version + Jeff Bhasker Mix)
Copyright 2013 ABC News Radio