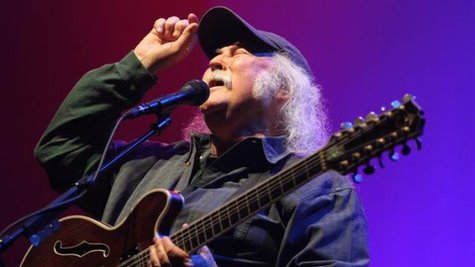 Fans of David Crosby may want to try and catch him in concert soon, since the folk-rock legend suggests that he's just about ready for retirement. In a new interview with The Wall Street Journal , the 71-year-old singer/songwriter admits that his dream would be to mount one more tour with Crosby, Stills, Nash & Young .
"From there, I'd be fine," he tells the newspaper. "I'd be able to sail. I'd live. And I'd be happy."
Crosby notes that he may not be around that much longer anyway, because of his health issues.
"I have maybe 10 more years, if I'm lucky," he reveals. "I have hepatitis C, diabetes and heart disease."
David adds that he's doing what he can to manage his various problems. "I'm going to the gym three days a week, I'm feeling strong and I can still make audiences feel great," he reports.
Crosby's passion for sailing is well documented, and the bulk of the article focuses on his love for the pastime and the story behind how he became interested in it.
He reveals that he became obsessed with the sport after his family enrolled him in sailing classes when he was 11 years old. Crosby also discusses at length his 74-foot-long schooner The Mayan , which he bought in 1967 after being fired from The Byrds and borrowing $25,000 from his friend Peter Tork of The Monkees .
David called the boat "a deep muse," revealing that he wrote such classic songs as "Wooden Ships," "The Lee Shore" and "Carry Me" while below deck.
Crosby also discloses that he's recently had difficulty affording maintenance on the schooner "given my mortgage and other expenses." He adds that The Mayan actually has "been on the market for a few years," while noting that his wife, Jan , "would break my arms if I actually sold it."
Getting the boat back in shipshape apparently is one of the reasons he'd like to mount another CSNY tour. Meanwhile, Crosby, Stills & Nash -- without Neil Young -- kick off a European tour on June 20 in Dresden, Germany.
Copyright 2013 ABC News Radio