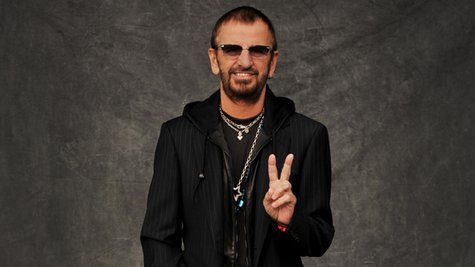 With the deaths of John Lennon and George Harrison in 1980 and 2001, respectively, we'll obviously never know for sure if The Beatles would have ever reunited, but drummer Ringo Starr says he'd "like to think" that they would have. In a new interview with U.K. tabloid The Daily Mirror , the 72-year-old rock legend suggests that there's a good chance that he and his old band mates would at least have considered joining forces once again.
" Paul [ McCartney ] still goes out with his band, I go out with mine and John would probably have been going out with his," Ringo maintains. "George was not big on touring so I'm not sure about him. But who knows... it could have come together."
Speaking about Starr's own tour plans, the drummer will be bringing the current incarnation of his All-Starr Band to South America this fall. Ringo reveals to The Mirror a surprising tidbit about his feelings regarding performing live.
"I still get nervous before every show," he admits. Ringo says it would be his fantasy to be as cool and collected as the late Frank Sinatra was on stage, "but for a few seconds before every show I'm 'Oh God -- I want to go to bed!'" He adds that to overcome that anxiety he has to "run on and grab the mic and once I've done that I'm fine."
Starr reveals that his stage fright dates all the way back to the first time The Beatles performed at the London Palladium in 1963. "I puked in a bucket before going on," he says. "I was terrified."
Ringo and his All-Starr Band's next tour is scheduled to get under way October 29 in Sao Paulo, Brazil, and currently is slated to wind down with a two-night engagement, November 22-23, in Las Vegas.
Copyright 2013 ABC News Radio