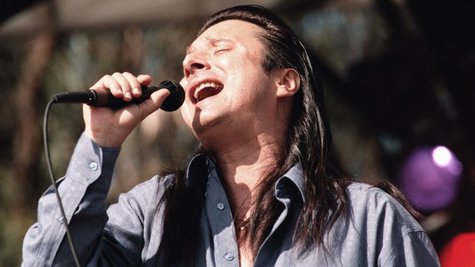 Former Journey frontman Steve Perry says he's on the mend after undergoing two operations recently to treat a cancerous growth on his face. In a new blog post on his official webpage, the singer reveals, "Three weeks ago a routine mole was taken off my face and the lab report came back Melanoma skin cancer. I've had two surgeries in two weeks to remove all the cancer cells."
He adds that his doctors told him "they think they got it all and no other treatments are required."
Perry also posted a recent photo that shows him with original MTV VJ Martha Quinn . In the pic, a long scar is visible running from beneath his right eye down his cheek. He reports that he happened to bump into Quinn at a street fair, and says she helped lift his spirits on a day he was feeling depressed.
In the same blog, Steve shares a heartbreaking story about a recent romantic relationship he had with a woman who lost her own battle with cancer this past winter. Perry says he met his late girlfriend, Kellie Nash , through director Patty Jenkins , who directed Monster , after spotting her in a Lifetime Channel documentary the filmmaker was working on about women with breast cancer.
Steve explains that he was captivated by Nash's smile and asked Jenkins to email her and tell her he wanted to take her out. Jenkins informed Perry that Kellie, a psychologist, had had a recurrence of her cancer, which had spread to her lungs and bones. However, the singer was undeterred and the two began to date in May 2011.
Perry says from their very first dinner together, he and Nash "knew that we were meant to be together." Sadly, though, her cancer continued to progress and soon spread to her brain. Steve stayed by Kellie's side as she received various treatments and eventually moved to New York City with her, where she went on a drug regimen that gave her a good quality of life for several months. Inevitably, though, all medical options were exhausted and he and Kellie moved back to California in November 2012. On December 14, she passed away.
"She was so strong, so courageous and we really loved each other so very much," writes Perry. "I've been trying to grieve and not run from this loss so for the last five months that's what I've been doing."
Regarding his relationship with Nash and his own cancer fight, the singer tells his fans, "There's so much more to this story than you know and soon you will know more about it."
Copyright 2013 ABC News Radio