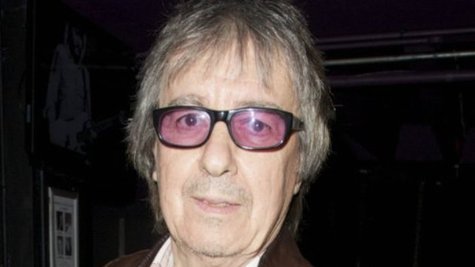 Ex- Rolling Stones bassist Bill Wyman has just released a limited-edition coffee-table book titled Bill Wyman's Scrapbook , which features personal photos and images of memorabilia he's collected throughout his life, including during his tenure with his former group. The 76-year-old musician's interest in archiving the band's, and his own, history is among Wyman's many interests, but one thing in which he has no interest is playing with The Stones again.
As previously reported, Wyman was annoyed that The Stones only asked him to play two songs when they invited him to perform with them at their late-2012 concerts at London's O2 Arena. In a new interview with Rolling Stone magazine, Bill goes into more detail about his feelings regarding the brief reunion and why those London shows likely will be his final performances with the group.
First off, Wyman talks about a few of the positive aspects of joining his former band on stage again. "It was nice. Because I loved playing with [drummer] Charlie [ Watts ]," he explains. "But the main thing was that my three teenage daughters saw me for the first time and The Stones onstage, which they hadn't seen before...so it was a bit special for that reason."
Inevitably, though, Wyman says he was disappointed because he "was there five minutes and off." He adds, "That's the end of it, you know."
Wyman also reveals that it was singer Mick Jagger who told him that he was only going to play two tunes with the band. "So that's why I didn't go to America," he says. "Because I said, 'I'm not [traveling] for two weeks to do three concerts for two songs.'"
The Rock and Roll Hall of Famer notes that the experience reminded him "you cannot return to something from the past after years, because it's not the same."
Wyman insists, however, that he remains "great friends" with his ex-band mates, noting, "We still send each other birthday and Christmas presents, as we've always done."
Bill maintains that while he had a fantastic time during his 30 years with The Stones, he's very content now with his life outside of the group. "I've done other things. I did archaeology. I write books. I've got a successful restaurant," he says. "And I've got a beautiful family of three beautiful daughters and that's all I want in my life."
Find out more about Wyman's new book, Bill Wyman's Scrapbook, at his official website .
Copyright 2013 ABC News Radio